Polyurea: A very special material
ATKCOAT pure polyurea is one of the products we use most in our waterproofing work. Thanks to its high performance, it has become essential for solving waterproofing problems once and for all
What is ATKCOAT pure polyurea and how is it applied?

Polyurea is a polymer that is formed from the reaction of two components (isocyanate and polyamine). It is applied by means of a two-component high-pressure spraying equipment. The machine is usually installed on a truck and from there a hose is extended to the area where the product is to be sprayed.
How long does it take to fix?

In just 6 seconds the two components react and the high performance coating is formed. Therefore, the formation of the membrane is very fast, which means that we can shorten installation times considerably.
Humidity of the support. Can polyurea be applied in the Basque Country? 

The supports on which the polyurea spray is projected must be dry in order to ensure the good anchorage of our membrane. The climate of the Basque Country is very humid and rainy, which makes its application difficult. Fortunately, we have a variety of primers with which to properly prepare the substrate, such as our ATKWET, especially designed for wet surfaces.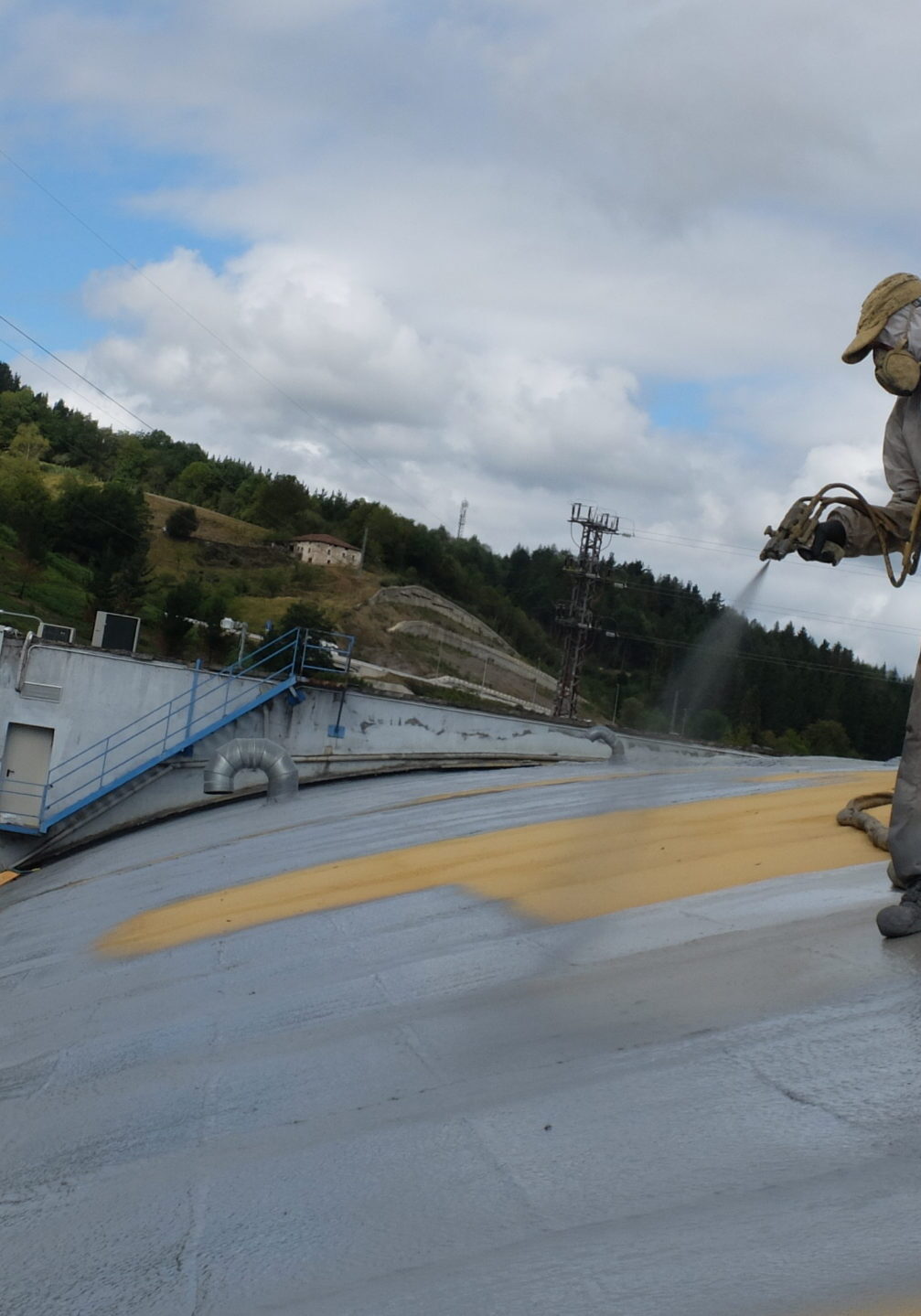 What is the recommended thickness of the Polyurea membrane?  

According to the European Technical Evaluation certificate (ETE 14/0397), the minimum thickness of the membrane must be 1.4 mm. In our applications we calculate higher consumptions that take us an average of 2 mm thick to guarantee all our waterproofing.
Can it be applied on metal sheets? And on a ceramic tile? On roofing tiles?

We can apply ATKCOAT polyurea on a wide variety of supports. The important thing is to have a professional company that knows how to properly prepare the surfaces with the appropriate primer. We have successfully applied polyurea to tiles, corrugated roofs (asbestos and cement), fibre cement, tiles, metal roofing, zinc, stone and concrete.
What types of finishes does polyurea offer me? Can it be walked on?

Polyurea can be left exposed to the elements. To do this, it is advisable to apply an ATKTOP protection layer in the colour you like best. We can also opt for a walkable and anti-slip finish by adding aggregates or anti-slip grip chips to a final coat of ATKPOL T. If we choose to cover the waterproofing, it will be sufficient to leave a rough finish ready to install the tile, stone or covering we choose directly on it.
MAIN ADVANTAGES OF ATKCOAT PURE POLYUREA

SPRAYED SYSTEM DESIGNED WITHOUT JOINTS AND JOINED TO THE SUPPORT
- FAST APPLICATION AND CURING
EXCELLENT PHYSICAL-CHEMICAL PROPERTIES
PERFECT RESOLUTION OF SINGLE POINTS
100% WATERPROOF WITH MINIMUM THICKNESS
APPLICABLE ON ALL TYPES OF SURFACES
ADAPTS TO ANY SHAPE AND GEOMETRY
EUROPEAN ETE CERTIFICATE 14/0397
CERTIFICATE OF POTABILITY
ANTI-ROOT TESTS PASSED
DIVERSITY OF AESTHETIC FINISHES
WIDE WORKING TEMPERATURE RANGE (from -40ºC to +180ºC)
Trabajos realizados

A continuación os mostraremos algunos de nuestros proyectos de Poliurea Atkcoat.