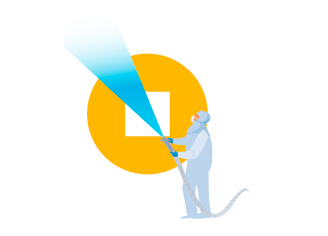 Waterproofing
With a full guarantee and NO BUILDING WORK.
We waterproof all types of surfaces for industry, building professionals, private clients, public organisations, etc.
We are skilled at working against back pressure under the water table in garages, basements and trenches. We also repair all kinds of leaks.
We use the latest materials and cutting-edge techniques to create liquid and sprayed waterproofing which is joint-free, glued, elastic, traffic-bearing and decorative, as well as being polyurethane and polyurea-based. This ensures maximum performance in the shortest time possible, at the lowest cost, with a full guarantee and NO BUILDING WORK. These are the perfect systems for refurbishing and waterproofing terraces and balconies on private properties.