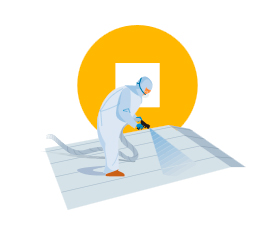 Insulation
Improved warmth, wellbeing and health.
We install thermal, acoustic and fireproof insulation with the best insulating products on the market. These include polyurethane, rock wool, natural fibres (cellulose) and eco-friendly insulating material - improving the sustainability and energy efficiency of buildings while respecting the environment.
We also restore and refurbish facades with the best insulation systems such as cork, quartz and liquid insulation that is sprayed continuously.We insulate against fire and can make all kinds of surfaces and structures fireproof.
We have extensive experience in solving problems related to damp caused by condensation by injecting or blowing in the best insulation systems, depending on each individual case. Preventing cold air currents and keeping the house at the same temperature results in significantly improved warmth, which in turn saves on heating costs. Improved warmth, wellbeing and health.